Best Digital Showers Reviews in 2023
Best digital shower controls make great advancements of common showers as they incorporate the use of the latest technology, to take the showering experience to another level. They are more like mixer showers as they make use of both cold and hot water to come up with desirable warm temperatures.
However, with digital showers, you get to enjoy frustration-free device control using the easily accessible digital setting displays.
So in the real sense, you get better comfort with customized services.
Our 3 Top Rated Digital Temperature Controlled Shower Reviews

1. Moen U Shower Smart Home Connected Bathroom Controller
Best overall performer, easy to install and makes use of voice control.

2. KOHLER K-527-1CP DTV Prompt Digital Shower Interface
It has modern design and with pre-heat function among other you will have no reason to complain about the price.

3. GOWE Digital shower control system
Unique contemporary construction makes this digital device to stand out.
Best Digital Showers Review in 2023
Moen U Shower Smart Home Connected Bathroom Controller Review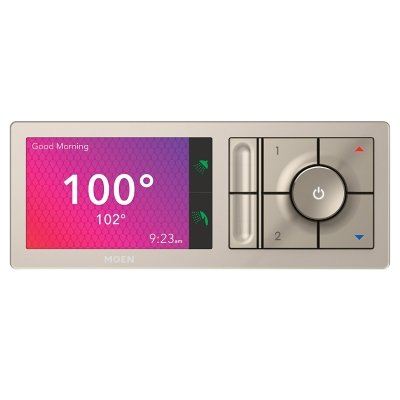 Do you love being in control?
If yes, then the Moen U smart shower control gives you the flexibility of personalizing your shower experience.
The device allows you to operate it through your smartphone, so you don't have to press the buttons to get things rolling.
Also, with the pre-set water temperature warming option, you can get your water ready for your ideal temperature before getting into the shower.
This Moen product allows you to go on with other activities in other parts of the house while controlling it through the Moen smartphone App.
However, you have to be a resident or visitor to Canada and USA to enjoy the services of the smartphone App as it isn't yet available in other regions.
That said, the shower controller comes with an easy-to-read LCD screen that showcases high levels of technological innovation through the use of WI-FI and outlet power connection
Get more info about Moen U on Amazon.com
Moen U PROS:
Touch Screen and button operation options
Uses Wi-Fi connection
Two showering spray outlet options
Makes use of voice control
Moen U CONS:
Lacks pre-set display switch off option
Bulky backup battery
What we think about Moen U
The Moen U is easy to install and use with its available PDF instructional menu.
Its price is also favorable, and with the numerous offers going on, you would probably land the best digital shower deal.
KOHLER K-527-1CP DTV Prompt Digital Shower Interface Review

The Kohler brand continues to pride itself for maintaining a competitive edge in the contemporary bathroom related fixtures market.
The Kohler K-527-1CP DTV Prompt Digital Shower Interface comes to affirm this with its undeniably attractive features, which would include its classy modern design to complement the general outlook of any bath space.
This kohler dtv shower system comes packaged with an easy-to-read LCD that would offer you convenience in operations together with the convenient one-touch buttons.
You can decide to use this digital shower with a single or double outlet applications that includes bath and shower, tub only or shower only according to your preference.
Its integrated diverter comes in handy with touch-buttons that you can run simultaneously or separately.
The Kohler shower digital temperature control requires the use of a K-528-K digital thermostatic valve that would offer you single or double services for up to 13 GPM flow rate
Get more info about kohler digital shower on Amazon.com
KOHLER K-527-1CP PROS:
Flexible installation
Save-water mode
Excellent customization features
Available in three finishes
Energy efficient
KOHLER K-527-1CP CONS:
Unreliability reports
No bright backlight dimming setting
What we think about KOHLER K-527-1CP
The Kohler K-527-1CP DTV has a pre-heat function among other outstanding operation flexibility options that offers value for your money.
And with its sleek modern design, you will have no reason to complain about the price.
GOWE Digital shower control system shower Review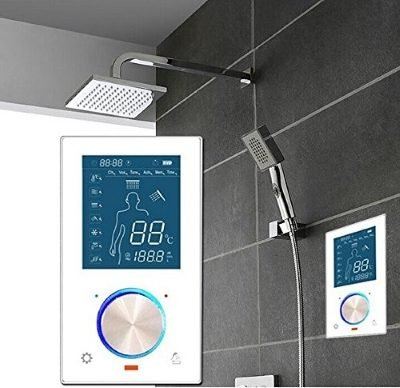 Like the Kohler K-527-1CP DTV, the GOWE Digital Shower Control System from GOWE brand seeks to offer you value for your money.
This best digital shower body spray comes with top-notch features that would include the head and hand shower and the water flow and temperature adjustments.
The GOWE product gives you a customized shower function through the digital control settings that would see that you make the best out of your showering experience.
With this fantastic digital device, you receive a patented intelligent thermostatic valve that would ensure efficiency in service delivery.
And if you're a conservational environmental enthusiast, you will love its water and energy-saving capabilities.
You can also set and save the most appropriate water flow rate and temperature on the control panel, such that you don't have to input every time you take a shower.
The remote control shower works to ensure your safety through the automatic switching off feature, whenever something is amiss.
Get more info about GOWE Digital shower on Amazon.com
GOWE PROS:
A dual power supply system
Water and Energy efficient
Water backflow prevention
Easy installation
GOWE CONS:
Default working time that can be inconveniencing
What we think about GOWE
The GOWE Digital Shower might share features with other similar products, but it's its unique contemporary construction that makes it stand out.
KOHLER K-99693-NA DTV Plus Digital Interface Review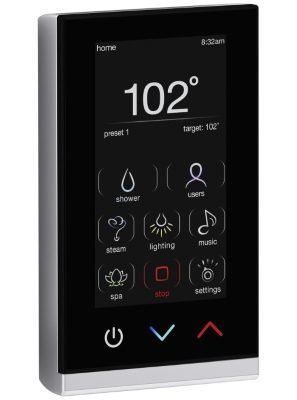 If what you desire is a thrilling shower experience, then the Kohler manufacturers got you with their Digital Interface K-99693-NA DTV Plus.
The digital shower temperature control is set to offer you a spa-like experience with its high-quality pre-programmed temperature and hydrotherapy programs that would eliminate disruptions during your therapeutical shower.
For your customized needs, the device offers you a six-user preset option where you can set and save your ideal showering settings for every time you get into the shower.
With this best digital shower control system, you get to control the shower outlets, steam, lighting, audio output and the chromatherapy.
Its easy-to-read touchscreen colored configurations make it a reliable friend in your bath area.
You will, however, have to spend more on purchasing the essential K-99694 interface mounting bracket and K-99695 system controller module for maximum efficiency.
Get more info about KOHLER K-99693-NA DTV Plus on Amazon.com
KOHLER K-99693-NA PROS:
Showering countdown feature
Offers pre-programmed spa experience themes
Allows installation of addition fixtures
Favorable System settings pre-set options
KOHLER K-99693-NA CONS:
Irresponsive screen reports
What we think about KOHLER K-99693-NA
At its price, the KOHLER Digital Interface K-99693-NA DTV offers matching features that would make you love your showering experience.
Its design is also appealing, and we hope they give a timely action to the faulty screen reports.
Moen TS3415 IO/Digital Shower Digital Control Review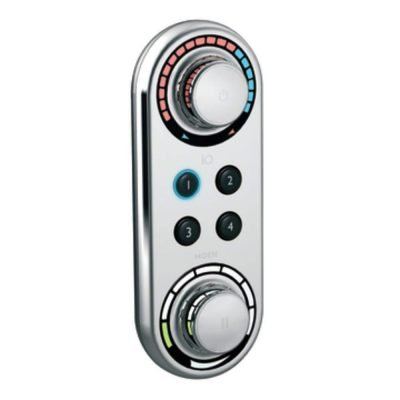 If the big names in the digital showers market have anything to go by, then this list couldn't be fulfilled without the mention of the Moen brand.
The Moen TS3415 IO Digital Shower is giving Kohler a good run for market segment probably because of its undeniably elegant design.
This digital shower comes in the bright chrome finish that makes it highly reflective in the bath space, thus acting as an additional spark to the existing décor.
Having the Moen TS3415 IO in your bathroom ensures you enjoy the best single shower spray projection with the incredible M-PACT valve system.
And if you want a small bathroom extra to your space, this products offers precisely that with its little 6 3/4-Inch body frame.
The device also comes at an affordable price, which would make it easy for you to purchase the extra ioDIGITAL valves and trim components for maximum functionality.
Get more info about Moen IO Digital Shower on Amazon.com
Moen TS3415 PROS:
Small round shape to mount on any part of the wall
Limited life Warranty for guaranteed durability
Energy and water efficient
Moen TS3415 CONS:
Corrosion vulnerable metal construction
What we think about Moen TS3415
The Moen TS3415 IO Digital Shower could make an excellent option for individuals working on a tight budget.
However, we feel the limited features are still overpriced with the current price.
Digital Showers Are a Result of Innovative Technology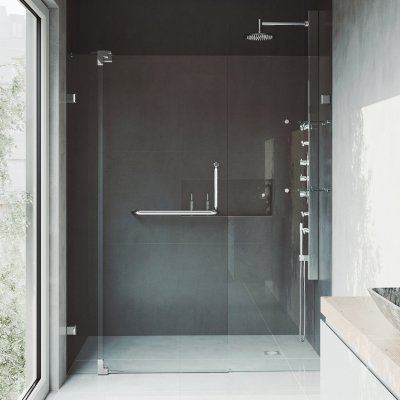 The first thing that would probably cross most peoples' minds the moment the heart of the term digital showers, is a digital form of showering technology that would probably offer them more features at the comfort of their homes.
With these devices, you get to enjoy hassle-free temperature, flow rate, among other vital settings.
And if you like your shower in a given state, you get to save your preference settings once and for all, for convenience in subsequent showers.
Pumped Options; like other bathroom accessories, digital shower mixers come with a range of options that offer you the flexibility you require.
For instance, some come with an inbuilt pump that works to increase the water flow pressure rates.
Thermostatic Feature; if you have made use of the standard shower, then you know the importance of the thermostatic valve.
And just like everything that comes with the digital shower, expect a more functional thermostatic valve that would offer maximum benefits.
For instance, it correctly regulates the water temperature throughout your showering duration, ensures you receive the best of every available feature and makes timely adjustments to ensure your water supply and temperature remains stable even as other individuals get to use additional taps or even the toilet.
And in case the cold water pipes gets faulty, the thermostatic valve switches to safe mode to protect you in the shower.
What more should I know About Digital Showers?
Before purchasing digital shower, you should first consider your household boiler type, so that you get to choose one that fits with its functionality (not unless you have extra money for a new boiler).
Afterward, keep in mind the water pressure of your household while not forgetting the total number of family members.
In other words, it's vital to have a rough idea of your ideal digital shower to simplify your purchasing experience.
For instance, what remote shower controller design do you want?
And how powerful would you want the whole experience to be?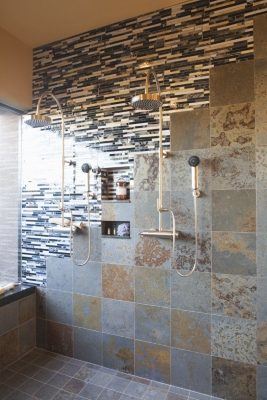 Some of the essential advantages include;
Offers easy installation without necessarily undergoing the frustration of retiling
Various designs for your mixer and electric configurations preference picks
Excellent convenience with the simple digital display control features.
Cons of Digital Showers
They dig deeper into your bank account
They don't make excellent choices in areas with low-pressure systems
Essential Considerations When Purchasing a Remote Shower Controller

Digital showers seek to offer the best of technology by being at the forefront of the current contemporary shower designs innovations.
Therefore, no matter the type you decide to pick, you have to ensure to receive guaranteed durability and reliability as they don't come cheap.
But how do you go about it?
Take Time to Research; if you could manage to stay without a digital shower for some time, then it wouldn't hurt to take a few more days to research on what would suit your needs thoroughly.
Examine the various brands in the market and make a more in-depth look at their pros and cons.
Afterward, seek to know the importance of various features from the internet or the people around you.
Consider the Processor Box; this is the most vital part of your digital shower experience as it dictates the water temperature you receive as you shower.
Therefore, ensure you get one that can adequately function even when other individuals are using the hot/cold water in other parts of the house.
It should also be shock and spikes resistant.
You can decide to fix the processor box in the shower enclosure for convenience purposes.
And if you like a neat appearance, then opt to keep it out of sight, there so many points you can install it without drawing much attention.
Why not get creative?
What Do I Stand to Gain Most with a Digital Shower?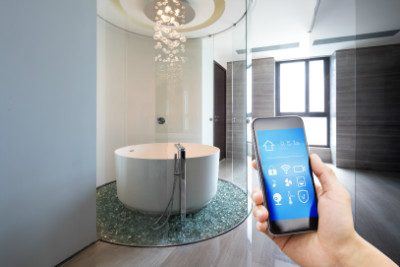 If you can't keep yourself away from the latest trends of technological innovations, then you would find more reason to love the convenience excitements that digital showers stand to offer.
And if you think you've had it all, you will be glad to learn that most (if not all) digital showers come with a highly functional Bluetooth feature that gives unit installation flexibility of up to 10 meters further.
Additionally, the ability to control the water temperature with ease and at your convenience is simply thrilling for the whole family.
So if you can't seem to get it right with the manual hot and cold taps, then maybe it's time you consider going digital with the crest of the world.
Furthermore, there is nothing as satisfying as getting things running within seconds.
At least ensure you spend less time in the shower with the digital shower, if you're always running up and down with an effort to keep time.
The extra additions to most of these devices such as touch screens with LCD, additional remote control, and the eco-friendly features, would make you want to spend more time showering.
And if style is your other name, then you would most probably love the various sleek designs to blend in with other bathroom fixtures and top-up as part of the décor.
Conclusion
Digital showers stand to offer you the flexibility and convenience you need to take your showering experience a notch higher.
And no matter the size of your bathroom, you can rest assured to find one that blends and fits in well, as you can also find different shapes.
They are worthy additions to your space and would be favorable for families with young children.