How To Choose The Shower Panel
As soon as the word "shower panel" rings in your head, the first question that comes to your mind is that, "What exactly is a shower panel?" Actually, the answer to this question is quite simple – A shower panel is a complete shower system unit that has several functions all aimed towards successfully accomplishing the task of showering.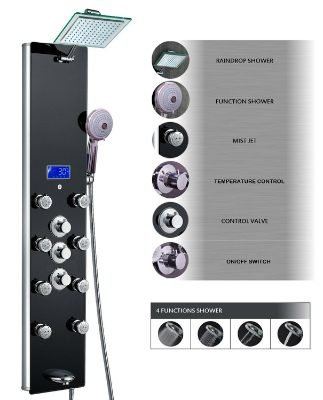 A shower panel is an all-in-one unit, which consists of various individual showering units such as taps, rainfall showerhead(s), handheld shower(s), and horizontal sprayers.
A shower panel is a combination of various units, which allows it to act as a versatile and multi-functional unit.
Some years back, when the shower panels first came into existence, their use was just to hold on the showerhead and hide all other pipes of the same.
Back then, their main purpose was to make the shower unit look better than showering units consisting with exposed pipes.
There was nothing fancy and attractive with these shower panels and they had a single hole for the showerhead.
With the passage of time, however, shower panels passed through countless evolutions and had evolved into walls that are inside the shower and as a result, today offers a large number of options to make showers more enjoyable.
Why owe a Shower Panel
Taking a shower after a long and hard day is one among the great ways for relaxing and easing out all the stresses and strains. Modern shower panels are equipped with so many features that makes them worth owing and delivers ultimate bath, shower and massage experience. There are so many shower panels available in market that comes with various options and thus you can choose a shower panel that suits you best according to your needs and preferences.
In addition, these modern shower panels comes with sensitive water and temperature controllers for making the adjustment of temperature and water flow a breeze. There are multiple ways, by which the water comes out of the shower so that you can enjoy your shower as you want and such kind of features come in best water panels. These best water panels have integrated clock and radio that lets you enjoy your favorite tracks while enjoying a shower.
You can also track the time so that you can stay abreast with your schedule. There is an optional LED lights feature in some water panels, which will only uplift your mood and let you feel more relaxed and refreshed. Therefore, several features like these come with various shower panels. These shower panels are also becoming very popular due to their versatility and elegance. Moreover, shower panels are becoming an integral part of elite bathrooms and are gaining eyeballs from 5-star hotels and resorts.
The best advantage of these shower panels is that they come in many makes and designs so that you can select a shower panel in such a way so that it can match with your bathroom décor and boosts your bathroom décor. There are just so many reasons to owe a shower panel, ranging from being efficient energy-saving units to packing superb functionality.
Guide for Buying Best Shower Panel
There are plenty of shower panels available in market. This is both good and bad. Good because it brings diversity a number of fancy options. The same is bad because this makes it a difficult task to select a shower panel that can perfectly suit all your needs and looks good with your bathroom décor. Various shower panels are available with each of them having distinct features. You should select a shower panel in such a way such that it fulfills all your requirements and fits easily in your budget.
The shower panel should deliver you maximum performance and it should be economical. It is also a great idea to choose an eco-friendly shower panel that can help in saving water, as the scarcity of water is increasing day by day. You should keep your bathroom décor in your mind while going to buy a shower panel so that it can look good in your bathroom. You should keep several factors to your attention so that you could buy a shower panel, which is best for you according to your style and preference. These factors discussed below will guide you for buying best shower panel.
1. Size Requirement
First, you should measure the dimensions of your shower wall so that you can find a shower panel, which looks good with your shower wall and can fit properly in the available wall space. You can compare the dimensions of the wall with the shower panel and it will help you to get an idea of how the shower panel fits on the wall and how will it look. You can get the dimensions of the shower panel from the product specifications. You should select the size of the shower panel in such a way that it should look neither too small nor too big on your shower wall. It is important to select a proper size of the shower panel so that it can look no less than good in your bathroom.
2. Requirement of functions
You should be clear about the functions of the shower panel that you seek. You should ensure that all the functions that you are willing to have is present in the shower panel, which you can do by reviewing the product description of the shower panel. All the bells and whistles needed by you must be in the shower panel selected by you.
In addition, you should check that how many of the functions can be used simultaneously because some shower panels offer only a limited number of functions to be used at a single time due to constraints of water pressure.
3. Design and Finish
If you want to enhance the looks of your bathroom then you should be careful in selecting the design and finish of the shower panel. If you are remodeling your bathroom then you should ensure that the shower panel suits the bathroom décor and acts as a centerpiece. The design of the shower panel must be chosen in such a way so that it matches with the bathroom décor.
In addition, the finish as well as style needs to be tick in accordance with your bathroom décor. There are various finishes available such as silver steel finish, simple glass finish, colored glass finish, chrome, and much more.
4. Shower Options
The shower panels come with the various shower options such as rainfall, waterfall, handheld, horizontal spray and massage settings. You can select a shower panel which has either some of these options available or all of these available. These options can be used simultaneously, so it is up to you to select a shower panel, which suits all your needs.
5. Installation of the shower panel
The installation of the shower panel needs to be done either by you or by a professional. You should check the shower panel's instruction guide to know how to install it. If you find it to be tricky and difficult to install the shower panel by yourself then hire a professional for the job. Some of the shower panels available in market are easy to install and can be installed by the user while some of the shower panels require the services of a professional.
If you are planning to install the shower panel all by yourself, then ensure that the installation guide comes with the shower panel and the instructions given in it are clear and easy to understand.
6. Conserving water
Conserving water is very important these days as the scarcity of water is increasing at a rapid rate. There are many shower panels, which are eco-friendly and consumes less water than the standard consumption. You should go for such a water panel, which can help in reducing the water usage and cut your water bills.
There are shower panels that consumes less water but do not compromise with the performance and thus are the best option for just about anyone.
7. Other optional features
Other additional features those are available in water panels are integrated clock, radio, music player etc. If you are punctual of time then you should choose a water panel, which has integrated clock feature. If you are a music lover and do not want to skip your favorite tracks while taking a shower then you should consider buying a shower panel, which comes with a radio or a music player.
There are also water panels that come with LED lights option. The lights with the shower panel makes your mood good and feel you more relaxing. You should be clear about your needs and the leisure you are seeking while buying a shower panel.
8. Quality and Budget
You should set up your budget before buying a shower panel, as this will help you in the selection process. In addition, you can find the quality of shower panel by reading the product reviews. It is a general notion that cheaper shower panels do not last long so you should be careful with your selection process.